NOTICE: Mega Man WILL go to a Hiatus after Issue #55. For more info, Please click here
Welcome to the Blue Bomber Comics Wiki!
The Blue Bomber Comics Wiki is a collaborative encyclopedia for everything related to the Mega Man comic series published by Archie Comics. There are 87 articles and growing since this wiki was founded on February 2014. The wiki format allows anyone to create or edit any article, so we can all work together to create a comprehensive database for the Mega Man comic series. Please be aware that articles on Blue Bomber Comics Wiki will contain marked spoilers for all issues.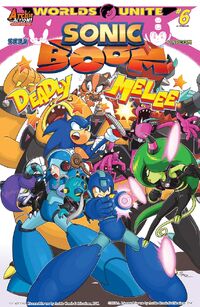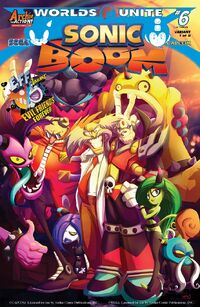 Sonic Boom #009 (Worlds Unite Part 6)
The SONIC/MEGA MAN crossover event GOES BOOM! "Worlds Unite" Part Six: The war against Sigma has been waged! Sonic, Mega Man and X lead their unified friends against hordes of mechaniloids led by the armored, super-powered Deadly Six! That sounds pretty scary and exciting, and now is definitely the time for everyone to work together and pay close attention. Especially Sticks. She tends to do some distracting stuff, like falling off the Sky Patrol and landing into a Genesis Portal or something—wait? Did she really? Well, where did she land? No way! Is that - -?! You won't believe where Sticks lands, but what you BETTER believe is that this issue sports some awesome cover art by Patrick "SPAZ" Spaziante and the return of the EVIL FRIENDS FOREVER (E.F.F.) variant by Brent McCarthy! Plus part 6 of the epic 12-part connecting variant cover series by artist Ben Bates!
Release Date: July 1, 2015
Most Recent Mega Man Issue: Issue #050 (Worlds Unite Part 4)

Comic Book Issues
Trade Paperbacks
NOTE: Dates shown are subject to change.
All Worlds Unite Issues are labeled as (WU Part #)
(*)Please check with Social Media for updates on release dates
To write a new article, just enter the article title in the box above. If you are not sure where to start, read through our policies and guidelines. For editing help, see Wikia's tutorial. Then lend us a hand with some of these:

Create blog post
Blogs
The end is near for Mega Man, but this one will focus on one character, Proto Man (AKA: Blue, AKA: Break Man). This Mega Man Issue, which is released today, will describe on the events that would lead to Mega Man 4. Of course, we do wanted this to come but at least its finally that moment of time th…

Read more >

There it goes.... Sadly, the last three issues are up and coming in. Issue #55 of Mega Man is coming out this Wednesday and the next two issues before we wrap it up before the Hiatus will focus on an adaption of Mega Man 4. This won't be a major story arc as we normally want to see but in the end, t…

Read more >

Its the end of the road for now on Mega Man as Comics Alliance has revealed the last issue before Mega Man powers off for a what we'll be referring to as a "Deep Sleep" and get backs to its feet in the future. Archie Comics has since continue to not give out any reasons on why Archie Comics put Meg…

Read more >
See more >