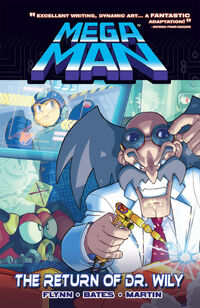 Mega Man Volume 3: The Return of Dr. Wily
is the third volume of the
Mega Man
comic series trade-paperbacks series published by
Archie Comics
. The volume consists of
The Return of Dr. Wily
story arc from
Mega Man
Issues #09-12. It was released on August 1, 2012.
Official Solicitation
Edit
The hit new MEGA MAN series from Archie Comics continues! Mega Man is about to retire his Mega Buster forever – with Dr. Wily's schemes defeated, our young hero thinks it's safe to return to his life as a helper robot. Wrong! Dr. Wily returns with a vengeance, striking back with eight all-new Robot Masters! It's up to Mega Man to take on the malicious Quick Man and his seven sinister robot brothers, foil Dr. Wily's insidious schemes, and storm the mad machinist's castle in a scale so epic you'll have to see it to believe it! MEGA MAN VOL. 3 collects MEGA MAN #9-12!
Reprinted Stories
Edit
Chapter 1
Edit
The Next Generation (MM#009)
Chapter 2
Edit
Consersion Software (MM#010)
Chapter 3
Edit
System Corruption (MM#011)
Chapter 4
Edit
Charge of the Light Brigade (MM#012)
Variant cover gallery
Cover sketches
Script selections from issues 9 & 10
Pencil selections from issues 9-11
Short Circuits 9-12 (enlarged)
Character profiles: Auto, Rush, Quick Man, Wood Man, Bubble Man, Heat Man, Crash Man, Air Man, Flash Man, Metal Man, Mecha Dragon, Guts Tank, Mega Man? & Items
The cover for Volume 3 is the same cover from Mega Man #009
Community content is available under
CC-BY-SA
unless otherwise noted.