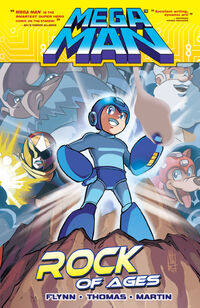 Mega Man Volume 5: Rock of Ages
is the fifth volume of the
Mega Man
comic series trade-paperbacks series published by
Archie Comics
. The volume consists of
Proto-Type
story arc from
Mega Man
Issues #17 and #18 along with Issues #19 and #20. It was released on May 15, 2014
Official Solicitation
Edit
Celebrate 25 years of Mega Man with the exciting next chapter in the Mega Man mythology in graphic novel! By popular demand, this latest volume introduces the saga of Blues, aka PROTO MAN! Who is this mysterious robot, and what special connection does he share with Mega Man? Fun, action, adventure and more in this collection! Collects issues #17-20.
Reprinted Stories
Edit
Chapter 1
Edit
Proto-Type, Part 1: Father and Son (MM#017)
Chapter 2
Edit
Proto-Type, Part 2: The Lonely Road (MM#018)
Construction Derby (MM#017)
Cold Feat (MM#018)
Chapter 3
Edit
Roll With it (MM#019)
Chapter 4
Edit
Rock of Ages (MM#020)
Afterword by Ian Flynn
Short Circuits 17-20
Variant cover gallery
Cover process
The saga of Proto Man
Script and pencil selections from issues 17 and 20 by Ian Flynn, Chad Thomas and Ryan Jampole
Character profiles: Blues, Concrete Man & Splash Woman
The cover for Volume 5 is the same cover from Mega Man #020, but with the image of Proto Man is from the cover of Mega Man #018's variant and replaces the image of Roll from the original cover.
This is the first trade paperback that is not named after a story arc.
Community content is available under
CC-BY-SA
unless otherwise noted.