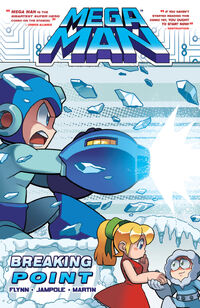 Mega Man Volume 6: Breaking Point
is the sixth volume of the
Mega Man
comic series trade-paperbacks series published by
Archie Comics
. The volume consists of
Mega Man
Issues #21-23 and #28 (with the exception of Issues #24-27 as they were released separately and was part of the
Worlds Collide
story arc). It was released on January 22, 2014
Official Solicitation
Edit
The 25th anniversary celebration of Mega Man continues with the exciting next chapter in the Mega Man mythology! And this latest graphic novel volume is a cause for celebration indeed -- there are parties, love, and... revenge?! From a New Year's terror attack by the vengeful Emerald Spears, to a devastating showdown with the mysterious Break Man, Mega Man just can't catch a break! This volume also ties-into the biggest comic book crossover event of the year: SONIC/MEGA MAN: WORLDS COLLIDE! See how Mega Man's world was rocked by Dr. Eggman and Dr. Wily's evil schemes! Witness the startling aftermath of the crossover as the mysterious RA MOON begins its bid for world domination! It's mega-madness, and with our heroic blue hero stretched so thin, there's only so much evil a bot can take before he reaches his BREAKING POINT! Featuring art from Harvey Award-nominated penciller Ryan Jampole.
Reprinted Stories
Edit
Chapter 1
Edit
Countdown (MM#021)
Chapter 2
Edit
Cold Crush (MM#022)
Chapter 3
Edit
For the Bot Who Has Everything (MM#023)
Chapter 4
Edit
The Retuen: Prelude to Ra Moon (MM#028)
Afterword by Ian Flynn
Short Circuits 21-23 & 28
Variant cover gallery
Cover proccess
Script and pencil selections from issues 23 and 28 by Ian Flynn and Ryan Jampole
Character profiles: Theo Payne, Simone Miller & The Mayor of Mega City
The cover for Volume 6 is the same cover from Mega Man #022
This is the first trade paperback to have an original title.
Community content is available under
CC-BY-SA
unless otherwise noted.