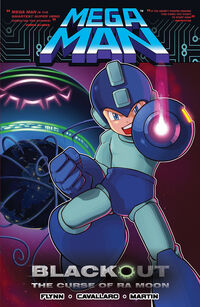 Mega Man Volume 7: Curse of the Ra Moon
is the seventh volume of the
Mega Man
comic series trade-paperbacks series published by
Archie Comics
. The volume consists of the
Curse of the Ra Moon
story arc from Mega Man Issues #29-32. It was released on September 17, 2014
Official Solicitation
Edit
Fresh from the history-making crossover with Sonic the Hedgehog, Mega Man is back with an all-new adventure! The world has gone dark. Robots have collapsed in the streets. Mega Man awakes to a world without electricity—and a crumbling civilization! With the help of the brilliant Dr. Light, Mega Man and a handful of Robot Masters are sent to the Amazon to stop the source of the world's power failure. But their mission is not an easy one. The malevolent Ra Moon has awoken, and its out to destroy the world. At its command is the unwitting Dr. Wily and his army of Wily-bots and Robot Masters. Can Mega Man and his friends overcome the odds and save the world? Or is this the end of an era?
Reprinted Stories
Edit
Chapter 1
Edit
Bad Moon Rising (MM#029)
Chapter 2
Edit
Phases of Evil (MM#030)
Chapter 3
Edit
Eve of Battle (MM#031)
Chapter 4
Edit
Total Eclipse (MM#032)
Short Circuits 29-32
Variant cover gallery
Ra Moon: from console to games
Pencil and ink selections from issue 29 by Ian Flynn and Mike Cavallaro
Script and pencil selections from issues 30-32 by Ian Flynn and Mike Cavallaro
Community content is available under
CC-BY-SA
unless otherwise noted.